Over years of furnishing and decorating our family homes, I've always done it slowly and organically. Freshly married, we found living room furniture and a vacuum cleaner and my sewing machine at our local St. Vincent's. Our kitchen table– adorably yellow Formica like the photo to the right– came from my grandmother.  Our bed came from my childhood bedroom.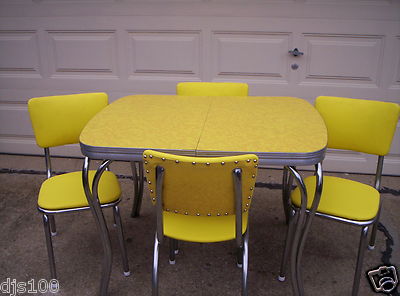 Bookshelves came from John's house.  And here and there were other small things we bought or were given.  Suffice it to say, furnishing our first home didn't cost much.
Each time we moved to progressively larger spaces, always it worked like this.  Something old, something new, and almost always things that were hand made or thrifted.
As we were planning to furnish an entire new house, my mind was really challenged.  I knew that so many things needed to be shiny-new:  sheets, towels, mattresses, sofas.  But we were, after all, still on a budget. Rather than completely abandoning my usual way of furnishing a home, I decided to try mixing old and new and hand made together.  I was also going to need to find bargains, lots of them.
So in the fall as the walls of the beach house went up, UPS packages began arriving at our Idaho home, to be squirreled away until we needed to decorate this crazy dream of ours.  And in the end we were able to furnish a very large home for a fairly reasonable cost.  How'd we do it?  Here are my best tips.
 Make it yourself. Begin by thinking about the things that you might be able to make yourself.  My husband has mad woodworking skills, and was able to make a beautiful dining table, nesting end tables, a bathroom counter, and even a bar.  Not having to buy these items saved us a bundle and also gave the home some great one-of-a-kind features.  If you can sew, you might be able to make curtains, table cloths, place mats, or throw pillows for the home.
Hunt at thrift stores, yard sales and Craigslist. Things we found include wall art, furniture, baskets and other small decor items.  We did well in the kitchenware department too, finding a salad spinner, serving bowls, utensils, and other items in good condition.  Most recently we found a great dresser for the master bedroom at a thrift store right in the same town as our beach home, a big plus since it also saved us the hassle of having to get the item from our Idaho home to our Oregon place.  After a good polish and a set of 'new' knobs that I found at a local ReStore, the dresser looked great.  A solid wood dresser like that would probably have cost at least $300 brand new, and we paid $100.

Give an old item a facelift! I was able to paint several dressers and end tables that ended up going over to the beach house, which gave a dated-looking item a completely fresh look.  You might be able to re-cover an older piece of furniture that needs updating.  One super-easy DIY reupholstery projects is replacing the fabric seats on chairs.  Here's a great youtube that walks you through the whole process, and it doesn't take a stitch of sewing.
Don't forget clearance shopping.  Target often has reduced items on sale on the end caps of various departments.  Fred Meyers is another store that regularly marks down merchandise.  I found quite a few sets of nice quality sheets at Fred Meyers.  Ross was a place I went over and over, for wall art and for curtain rods.  IKEA has a whole 'as is' department in each of their stores, typically near the check stands.  There it is possible to buy already assembled versions of some of their items. Some things may be slightly damaged, but it's worth looking.
Be willing to consider a less conventional solution.  When it came to buying mattresses, I was prepared to give up a huge chunk of change.  After all, comfortable mattresses are hugely important to most people.  However, a friend told me of a great experience she and her whole family had with mattresses in a box.  There are lots of retailers these days, including Tuft and Needle, Purple, Leesa, and Loom and Leaf.  But the ones she and her family got are on amazon, and that's the one we ended up buying, for 5 out of the 10 beds in our new rental.  It is called Classic Brands, and the best thing about it is that a king mattress is (at this moment) only $284.  HUGE budget savings there, and after sleeping on one of the mattresses for a couple weeks now, John and I can't say enough good things about it.  It is very comfortable.  It has no box spring, just a frame, and that can also be bought on amazon, and delivered to your front door in a box.  Doesn't get easier than that.  Or (we think) more comfortable.  Read the reviews yourself before buying to get an idea of whether it might be a good solution for you.  We did also buy conventional mattresses for five of the beds in the home  (hedging our bets), and those we got as high quality closeout models at a local furniture store.  Hopefully there will be a bed to please everyone at the house!
Say the Magic Words: As Is.  Some online stores sell returns and one of a kind items in 'as is' condition.  To locate those special deals, type 'as is' in the search bar of the website.  Overstock.com has hundreds of items for sale on any given day. Some items have true flaws, and not all will be listed.  I bought an 8×10 rug for $80 that had a two inch cut in an edge.  I was able to position the damaged area under a couch where it won't catch your eye or be prone to great damage.  No big deal. I bought many beautiful sets of curtains on overstock for $15 a pair where the only listed problem was 'dog hair'  I can live with that.  Here's a picture of a dining light I just bought for our home here in Idaho. As you can see, the original price was $184, marked down to $90.  Add in a 10% off coupon and I was able to purchase the light fixture for $81 with free shipping.  I'm not 100% sure what I will find wrong with the light.  But reading the reviews, several people mentioned an imperfect paint finish that they were able to fix with just a dab of black spray paint.  Sounds like a very doable fix to me.  Another store that offers as items is Wayfair.com.  They call their items 'open box' or 'closeout'. You never know what you'll find.
Use a coupon code finder.  Any time I am going to spend more than just a few bucks online, I will take a few minutes to hunt down coupons.  Retailmenot.com is a great place to check for coupon codes.  Honey is a similar helper.  It is a browser extension that automatically finds and applies coupon codes at  checkout with a single click.  Very often I can buy 'as is' items on overstock.com, and use a coupon code to lower the price another 10-15%.  And believe me, when you're buying two sets of new bedding for 10 different beds like I did recently, small discounts can add up to big savings.
Do you have any cost cutting ideas for furnishing a home affordably?  I'd love to hear your hints in the comments section.  As always, if you found this post helpful, I'd LOVE a pin on Pinterest. And if you'd like to see the result of all my careful shopping, here are the finished pictures of our home.